Although the locals give us funny looks, we insist that everyone wears a helmet on our guided tours. If you forget your helmet you can borrow one from us. If you bring your own, please remove the GoPro before coming.
Shoes – our bikes do not have click pedals! On sandy roads and extreme ascents we feel that they are disturbing and partially dangerous.
Yes, we do have E-Bikes – for a surcharge – for those who think they might need a little "boost".
We have even developed an App: Kerky Rad Tours. The Kerky Rad Tours App (iOS) provides
information about our offerings as well as directions, weather, a location function (wobinich) and contact information.
A very good webpage with lots of information about Corfu can be found here (in German) corfu.de.  The authors recently published a very useful travel book as well (also in German):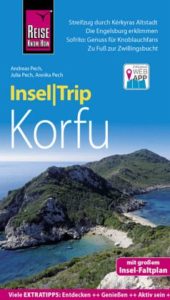 ---